THE FUTURE INTERNET TODAY — EXPLORE THE NEW OPEN WEB
A DSP Built for the Cookieless World
76% of ad request are already cookieless* — Viant's omnichannel DSP Adelphic provides a future-proof solution to reach consumers in a world without cookies.
Connect with new and existing customers in cookieless environments, as well as manage campaigns across mobile, desktop, digital out-of-home (DOOH), connected TV (CTV), digital audio and more without having to switch between platforms.
Learn more about Adelphic here.
Create Better Experiences with People-Based Advertising
The future internet is people-based. Your DSP should be, too.
Control ad reach and frequency as well as deliver personalized messaging to consumers across each of their devices by leveraging rich audience data from our 70+ partnerships.
Explore more about people-based advertising here.
Make an Impact in Emerging Channels
Cookieless channels present a new way to connect with consumers.
Access the metrics needed for success across existing ad channels as well as the emerging channels of CTV, digital audio, DOOH, in-game and more.
Discover why emerging channels like CTV present an exciting opportunity for advertisers here.
Measurement Tactics for a Cookieless World – White Paper
In this easy-to-follow guide, we lay out four steps any marketer can employ to prove their campaign dollars are working (regardless of industry) before, during and after the end of cookies.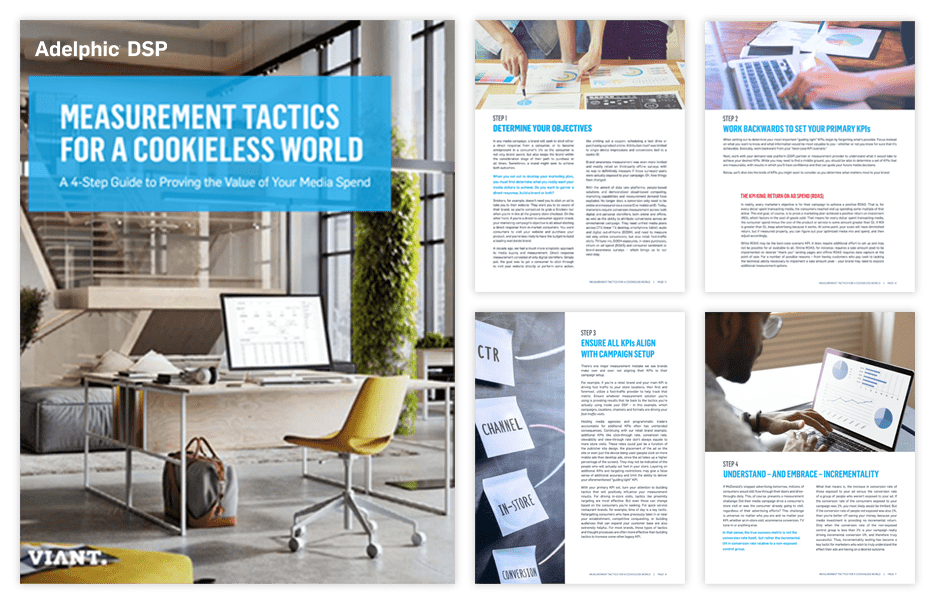 Learn More About the New Open Web
Note: By filling out this form, you agree to the Viant Privacy Policy and to join Viant's mailing list from which you can unsubscribe at any time.