EXPLORE THE FUTURE INTERNET TODAY — THE NEW OPEN WEB
Innovation Keeping Pace with Imagination
Moving Beyond Third-Party Cookies
With people-based advertising, marketers can evolve beyond the outdated and fast-declining third-party cookie to message consumers with a personalized ad experience in the New Open Web.
Emerging Channels, Expanding Possibilities
Connected TV, Digital Audio, DOOH, In-Game — marketers can reach consumers
across emerging ad channels as easily as traditional channels with people-based advertising in the New Open Web.
Expanding Measurement Capabilities into Offline and Online
Online and offline is the new measurement standard when marketers embrace a people-based approach in the New Open Web.
Three Key Areas of Focus for Marketers in 2023 – White Paper
Discover upcoming trends, hear from industry experts and discover how people-based advertising can help marketers succeed in the coming year and New Open Web with our latest white paper.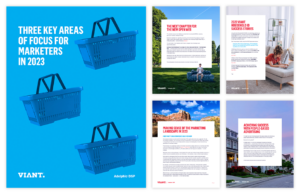 Learn More About the New Open Web
Note: By filling out this form, you agree to the Viant Privacy Policy and to join Viant's mailing list from which you can unsubscribe at any time.